Then There Were Four – Possible Super Bowl Matchups
New England's relatively easy victory over Tennessee earned them a seventh straight trip to the AFC title game. The wild finishes in Philadelphia, Pittsburgh, and Minnesota set the rest of the field for this weekend's conference title games. Only four remain leaving four potential Super Bowl matchups. Here's a look how each might play out.
New England vs. Philadelphia
A Patriots-Eagles Super Bowl matchup would likely be similar to a Patriots-Vikings tilt. The Eagles have been very good on defense all season, especially against the run where they finished first in the NFL during the regular season. New England has had plenty of recent success running the ball with Dion Lewis rushing for 60-plus yards in each of his last four games. Lewis has 896 for the season.
Belichick and Patricia would scheme a way to make things very difficult for Philadelphia QB Nick Foles. Foles is 3-1 since taking over as the starter for the Eagles after the injury to Carson Wentz. The Philadelphia offense has been far from the Eagles offense of midseason. Last week in a win over Atlanta, Philadelphia struggled its way to 15 points on a one-yard run by LeGarrette Blount and three Jake Elliott field goals.
While the Eagles run defense is the league's best, the pass defense is a little more suspect. Playing against possibly the best quarterback in the history of the game, that pass defense would have to play almost perfectly in order for Philadelphia to have a shot at beating the Patriots. Either that or the Eagles would have to force a few New England turnovers and steal a possession or two.
The second in line for most popular betting tradition in offices today in the U.S. is Super Bowl Squares. Winning with Super Bowl Squares is entirely luck so anyone has a chance of winning. This is probably why it's so popular.

Super Bowl 52 (LII) Square Grid 100 Boxes
printable, easy to edit, free to share
Jacksonville vs. Minnesota
A Jags-Vikings Super Bowl would feature the two best defenses in the NFL and two extremely powerful running games. Both teams play the type of style that can get teams to Super Bowls – excellent defense, strong running game. The result might come down to which quarterback makes fewer mistakes.
Minnesota's Keenum threw for 3,547 yards and 22 touchdowns. He tossed just seven interceptions. The Vikings didn't need him to come up with huge plays – that is until last week's TD pass on the final play – during the regular season. Keenum just needed to manage games, hand the ball off, and make a couple third down throws each game. Keenum played the majority of the season with the Vikings leading games. He threw only 9.4 percent of his passes with Minnesota behind in the fourth quarter.
The same is true for Jacksonville's Blake Bortles. The Jags have been able to hide Bortles behind their defense and a ground game led by rookie Leonard Fournette. Fortunately, those facets of the franchise have allowed Jacksonville to overcome some awful Bortles' performances. There was the 12-for-23 for 87 yard-performance in the 10-3 win over Buffalo in the wild card round. Then, there's the Bortles who was aided by Fournette's 109 rushing yards in last week's win over Pittsburgh. The Jacksonville QB completed 14-of-26 passes for 214 yards and a touchdown. He did not throw an interception nor was he sacked.
The quarterback that plays better in a Jags-Vikings Super Bowl ultimately would determine the winner.
Jacksonville vs. Philadelphia
It is probably the least likely Super Bowl LII, but it could happen. The Jags and the Eagles would again feature a pair of really aggressive defenses and offenses that would turn to their respective running games to control the football.
Philadelphia with Carson Wentz was a definite Super Bowl contender and if the second-year QB was able to play picking the Eagles would be a no-brainer. Unfortunately, the Eagles will have to rely on Nick Foles and relying on Foles means that the Eagles must run the football. It is how Philadelphia beat Atlanta in the divisional round. Foles, like his counterpart Bortles, is at his best when not asked to do too much.
A Jags-Eagles matchup would also pit the NFL's best rushing offense, Jacksonville, and the league's best run defense, Philadelphia. The Jags, who averaged 141.4 yards rushing during the regular season, have upped their game in the postseason and have rushed for 159.5 yards per game thus far in the playoffs. The Eagles gave opponents just 79.2 rushing yards per game. They limited the dynamic Atlanta duo of Tevin Coleman and Devonta Freeman to just 86 rushing yards last week.
Like a Jags-Vikings Super Bowl LII, a Jags-Eagles matchup would likely be decided by the quarterback who makes fewer mistakes and that may be decided by which defense plays better and which team runs the ball more effectively.
New England vs. Minnesota
Both the Patriots and Vikings are the early favorites to win their respective conference, but favorites don't always win. Just ask Pittsburgh which lost to Jacksonville as a seven-point favorite last week. A Patriots-Vikings Super Bowl would pit the NFL's best defense against the league's best offense. Tom Brady and company managed 394.2 total yards per game, tops in the league. The Patriots were also second in scoring averaging 28.6 points per game.
Minnesota was the NFL's best defense limiting opponents to just 275.9 yards and 15.8 points per game. The Vikings did have some difficulty with Drew Brees and New Orleans in the second half of last week's divisional round playoff game. Brees ended up throwing for 294 yards and three touchdowns leading a Saints comeback that was thwarted only by a Case Keenum-to-Stefon Diggs last second touchdown pass. The Patriots passing game could give Minnesota trouble. On the other side of the ball, you have head coach Bill Belichick and defensive coordinator Matt Patricia drawing up ways to slow down the Vikings offense. You know they will try and get after Keenum and stop the Minnesota running game. It is what they did in their divisional round playoff win over Tennessee. They held Derrick Henry to 28 yards rushing and sacked Marcus Mariota eight times.
Super Bowl 53 Odds and Spreads
below odds are provided by Bovada Sports

BetDSI offers daily squares $2-$100 per square pools.
Squares you can choose from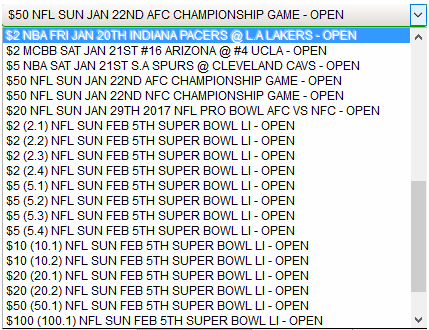 Click here to view the early Super Bowl 52
ddds to win the Championship
The 2018 NFL Playoffs are already here, and so starts the talks of Super Bowl favorites, betting odds, free picks and of course the prop bets. NFL Football remains America's favorite game because it's always full of surprises. It seems like every year a team that looks like a Pro Bowl Squad on paper winds up falling flat on their face.

2018 NFL Football Playoffs